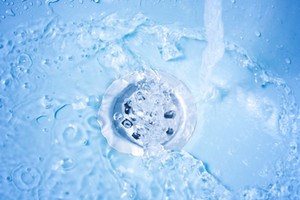 First time home owners or tenants often do not put drain cleaning on our list of regular household chores. Laundry, vacuuming, dusting and disinfecting are (thankfully) a part of your weekly, if not daily, schedule, but have you ever stopped to consider the most used areas in the home? From tubs to kitchen sinks, drains are everywhere.
Lets start with your bathroom. It's used day after day, with shampoo to wash your hair, shower gel, and to bath the children. This can lead to more unexpected (and sometimes disgusting) amounts of accumulation in the drain. If you look down when you are in the shower and you're standing one or two inches of water, or release the tub water only to see it drain more slowly, you know it's time to clean the drainage.
As for your kitchen. Your dog is not the only one who sees your leftovers after a meal. They are the leftovers of veggies, pasta, meat, and who knows what else that will inevitably clog your sink. Over time, food, and soap will build, and will eventually cause the drain to clog. But after completing the tried and true method of the hanger, or you have a favorite brand of drain cleaner when it's time to call the professionals?
If you just clean the drain a week ago and is again running slow, you probably have a problem. Residues, which were built over time, it is often difficult to remove a single treatment. Professional South Florida drain cleaning experts have the skills and equipment necessary to remove even the toughest build-up.
If your drain is completely clogged, and the standing water is screaming "We can not pass" to your drain, it is time to call a plumber to clean it. Home Remedies and drain cleaner may not be able to fight against something so stubborn, in fact it may even make it worse. Instead of putting on a tool belt and try to take apart the drain yourself, have someone who is trained to handle this take a look for you. It will save you money and time in the long term.
Last but not least, if you are unsure of how best to go about cleaning the drain, contact your local plumber. It is best to have a professionals fix it if you are unsure. They are more than happy to take a look at this problem and even can give you some tips to avoid it in the future. After all, is cheaper to use a drain cleaning services than to replace the sink, tub, or entire sewer system.