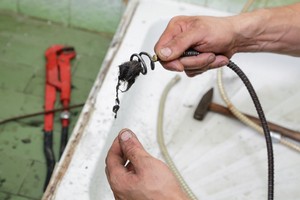 As a South Florida homeowner, you may have at some time noticed some backup in your basement or slow drainage throughout your house. You have probably thought about calling a plumber more than a dozen times to have your drains and sewer looked at. In the end, you probably bought some industrial strength chemical product and pushed off your problem by a few months. These stop gap solutions are better than nothing, but they are just going to nip at your problem around the edges.
In older homes, your sewer drain pipes can have sludge and debris throughout the length of the span. This means from mold to algae to roots this stuff is not going away without actually scrubbing out your drain pipes. A good drain cleaning service should be a two step process. First the vendor should clean the drain completely, then the contractor should show you the drain is 100% clean using a camera. A professional drain cleaning service should verify that the job you have requested is completed.
There are two primary ways that a good South Florida storm drain cleaning company could use to clean out your drain pipes. Those two methods are hydro jetting and snaking. (Snaking is also known as mechanical rodding) Depending upon your drain issues, either method could work well to clear out your problem. Both solutions attack the full length of the drain or sewer and insure that a sizable hole is cut in the debris in order to allow the flow of liquid throughout the pipe.
Snaking or mechanical rodding is the more common solution. Most plumbers have these tools available and this method is the traditional way that these have been cleaned out. The problem with this solution is that the process just cuts a hole in the blockage rather than removing all the debris. This will get your drain or sewer flowing again, but the source of the problem is often left in a position to start building up again quickly.
On the other hand, hydro jetting uses low volumes of water at very high pressure to scour the walls of your pipes including storm and sewer drains. The hydro jet cuts roots, grease, and all debris and gets the blockage to move completely away from the inner wall. At the end of the process your drain or sewer pipe is back to the original diameter. There is no other method that will clean your storm drain or sewer drain as well as hydro jetting.
At the end of the process, a camera is a very simple and affordable test. A reputable company will offer this as part of their service and will have the equipment to show you quickly what your drain looks like. When the drain is clear and you can see this on the camera, the job is done and you will be able to move to the next item on your "To Do" list as a home owner.